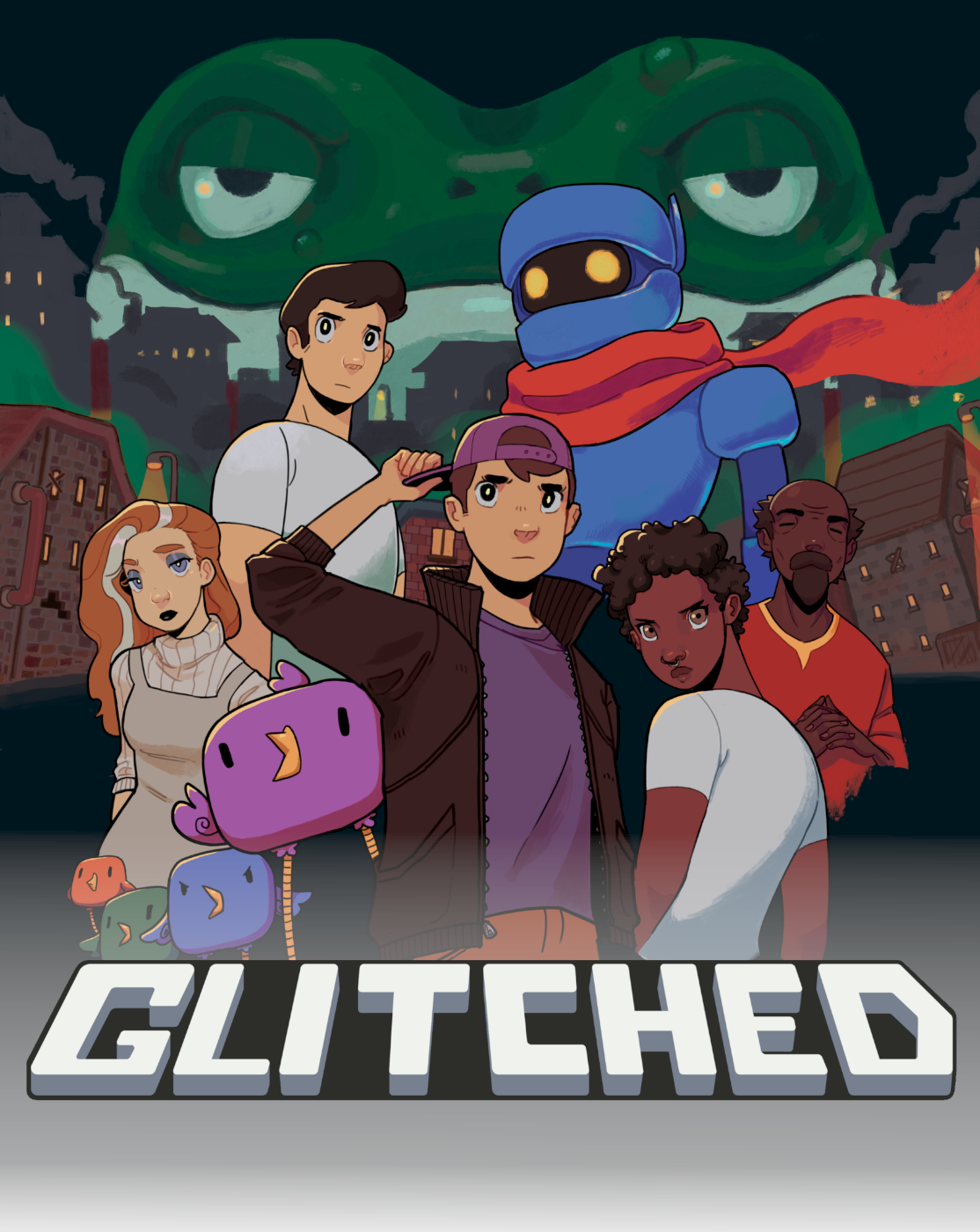 GLITCHED
Hey everyone,
As I talked about in the last Kickstarter update, release has been delayed. It slipped my mind that some of you here don't follow on Kickstarter so I'm going to go ahead and copy over a large chunk of text from that update here. You can view the update on Kickstarter here if you want to read up on some other GLITCHED news.
Here is the big section of that update talking about release delay:
GLITCHED's planned release date has been delayed. Announcing a delay is never easy, especially after putting a solid date on release. I'm really sorry to have to announce the delay, but I'm going be open and honest about some issues with development, the heavy work load, and being the sole developer on the project.

When I first announced October 15th as the release date, I was still committed to working 80-90 hours a week. This is about 12-14 hours a day taking a half day off on Saturday. Over the course of development, my time spent on development grew each week, eventually consuming all of my time spent awake. Soon after the announcement, it became apparent to me that I was not going to be able to continue to work at the level of quality GLITCHED needs while under that kind of endless work schedule. Along with that, long hours of work really started to mess with my hand and wrist and I just could not keep up the pace.
I decided to move myself to a 50 hour work week instead. This has had a really positive impact on development quality, my joints, and overall happiness. While all of this is nice, it does mean that over the past few months development has lagged behind and the I now need to put a new release date on GLITCHED. Managing the heavy workload and setting realistic goals has admittedly been a real issue through development. From a backer perspective, I know this is increasingly frustrating but I plan on releasing GLITCHED as a full game and the experience I promised- even it means delaying release. There will be no road-map of content, no chapters, none of that. Just a full game and experience when GLITCHED is released.
I have been the sole developer working on GLTICHED and managing things for well over a year now. With art and music being done, my work has been primarily focused on development (writing, scenes, bug testing) but there are tons of other things I still haven't gotten time to get through outside of development such as getting GLITCHED up on other platforms, fixing up the En House Studios website, talking to the press, responding to backer messages and emails, putting together a good trailer, working on merchandise, and more.
As you can imagine, this is a lot of work for one person. All of it will get done in time and GLITCHED will get released, but I am one guy working on a project that was designed for three. Other than these issues, I am a real perfectionist at heart. Many of you that have played the demo know this- from every object in the game having unique flavor text to every bookshelf having something to read. This mind-set has really caused me some personal issues with development. The constant revisiting of old content to make sure it's good enough is something I fall into more than I should. It might not seem like a large issue, but with a project this big the time spent tweaking content to be 'perfect' instead of 'good enough' has been a cost a sizable chunk of time.
If you are a skeptical backer who is thinking that this thing might never get released- you're wrong. Even with delays, I am really proud and excited about the content I've been working on and the game will be in your hands in due time. I've tried my best to be straight up and honest when delays. I refuse to ship out an unfinished, buggy, or content lacking game and the only way forward is to hold off on release. Backers deserve the game they were promised, even if it takes a bit longer. If you are a backer and are concerned about the project, come and talk to me in the official GLITCHED Discord. I am here pretty much all day and talking pretty casually and open about the game and my day to day work. You can also message me here or send over an email (developer@enhousestudios.com), though these will take a bit longer for me to get back to you.
I am not going to be announcing a release date until development on GLITCHED is completely finished and the game is ready for release. I know this can make people anxious waiting for a date, but it really is the best way forward for me. Looking back when we were first planning things, this should have been the mindset from the start. We were new developers, but that does not excuse us jumping the gun and underestimating the work load- which may have caused a lot of the issues throughout development.
As I've done before, I want to thank all of you for sticking with me and being patient. I will be truthful and say I had no idea how tall of a task this game was going to be and really appreciate being giving the opportunity by you all to get to take on the challenge. As a bonus for delays, all backers with get an extra copy of GLITCHED. Backers will receive a DRM-free key through Itch.io in addition to the platform you select on your survey. If you don't have a use for it, give it to a friend or send it streamer or Youtuber you like. All backers will also receive all future projects made in GLITCHED's engine for free. It was with your backing that I was able to build a really awesome RPG engine in Game Maker- so you all should get to enjoy what I make with it in the future. Even though this development cycle has had some pretty major problems, I know when it's released and everyone is playing.. I'm going to want to do it all again. Quest tier backers and higher will also receive an extra Essence pin, you'll be able to select it in the survey. And finally, all backers who receive a physical reward are going to get a little something special along with their rewards. It'll be cool- I promise.
Also because release is getting delayed- a new pre-release demo update will be out this year. You'll be able to carry over saves from this demo to the full version. This version is finished content- no additions or changes. This update will include a whole extra hour of content. Explore a bit of Gunden, patch your first glitch, raise bebos, cast magic, and meet a whole new cast of city dwellers. There will be an update here when it's live. I'm going to be promoting this demo a lot- so I could use your help when it drops to help get the word out.
Along with the demo update, there will be a development stream soon after the demo goes live. I know long paragraphs of text explaining development issues can be a little dry- so if you have questions, are concerned about development, or just want to check in on progress- tune in to see me answer some questions and show off some new content. There might even be something special at the end of the stream, make sure to check it out! Again, I'll do a quick update on here with a link when that goes live.